Back To Our Services
At Gate Repair Placentia, we focus on all aspects and parts of an entranceway. As a company that offers full support to residential gate owners, we repair defective parts such as openers, replace worn-out parts that cannot be fixed, and carry out maintenance services.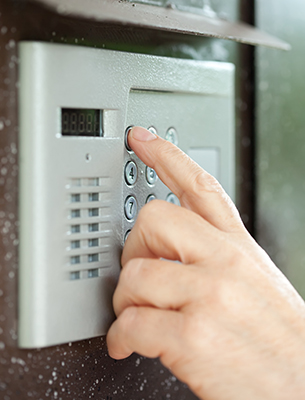 One of the most common parts that can become defective over prolonged use is the intercom system. Most people do not pay much attention to the state of this system as it is not something that is used every day. It is only used when you get a ring at the driveway and you want to communicate with the visitor before letting him or her in. As a result, it is essential that you do not neglect its condition. A defective doorphone will put your visitors in lurch, as they will have to use alternative methods to reach you and to inform you that they are standing outside the gate waiting for you to open it. To save you from such embarrassing situations, we offer our complete repair, replacement, and maintenance support.
Our technicians have received years of industry-standard training in handling and fixing all types of security gate parts. As a house owner, you can depend on us and rest assured that all your problems – no matter how serious – will be fixed within the shortest time possible. At our company, we believe in 100% customer satisfaction and nothing else.
Intercom Systems of All Brands
We make use of only genuine parts from known local and international brands for our services, which is one of our defining characteristics. Some of the brands that we are associated with are Doorking, Aiphone, and Linear. These companies manufacture high-quality transmitters, receivers, front panels, remote control sets, display screens, and door bells.
Program Your Erroneous Doorphone
Do your visitors complain that they cannot communicate properly using your driveway's phone entry system? Do you want to reset it? Or, maybe you want to create a new network and start over? We have solutions to all these questions. Our technicians are skilled enough to handle all types of entry-level software that are used in such systems. Programing an intercom's software should only be carried out by professionals, hence we request all our patrons to contact our technicians for doorstep service.For expert intercom solutions, hire Gate Repair Placentia. We cater to a large number of people in the city.
You can contact us via our website or by giving us a call.
Back To Our Services